I stepped on the scales the other day and found myself at a weight above THE NUMBER. The Number is The nothing-to-worry-about Number, The I'm-maintaining-ok Number, The no-need-to-do-anything-special-just-not-go-too-berserk- on-the-pizza-and-wine Number. Exceeding The Number blows a big loud alarm whistle – time for a lifestyle overhaul, since things are clearly more out of hand than can be remedied with a mere habit tweak.
This is a Good Thing*. It's not self-flagellation or despair, although dismay did get a brief run. You know when you get that feeling that it's the right time for a change, and you're ready? That's happening right now. I've had a great summer, an epic summer! Christmas, holidays, January, my birthday, Vanuatu – it's all been brilliant! Uni starts today, which will Change Everything. I'm almost over my cold, and it's March so I am counting AFDs again. It's 5 weeks until the Run For the Kids (eek! That soon?). Time to Get Organised. Time to, as is my wont, Make A Plan (just typing those words gets me all thrilled, what a sicko eh?)
Now the Plan is This:
Exercise: Plan, Do and Record. Take into account drop in fitness from the time off and the cold. Start slow, start small and stay frequent.
Food: have the Spousal Unit dish up my dinner into a smaller bowl or plate. I've already written "Portion Sizes" and "Dessert" on the splashback with whiteboard marker to remind me of my focus. Write It All Down. Boooooring but effective.
Drink: Count and record AFDs in the sidebar.
Thoughts: I was jolted from complacency not only by The Number, but also by a ghastly holiday snap in which I appear to be concealing a partially inflated flotation device under my clothing. I had stuck this photo on the fridge to remind myself not to graze. But then, S (fellow wage-slave) told me about a smash-hit 0prah type book called "The S3cret" which espouses the law of AttraXion, (I hope this misspelling will stop people googling me…); the idea is that you will get what you think about the most – hostility, prosperity, failure etc. I had a flick through the book, and although repelled and faintly nauseated by the airy-fairy, faux-spiritual, relentlessly simplistic-positive tone, there were a number of ways in which its arguments appealed to me.
I think the current victim-mentality is a plague on modern society. I consider the most significant breakthrough in psychology in the twentieth century to be learned optimism, and that positive psychology will be as significant in the twenty-first. In my own life, the habit of challenging negative thoughts and reframing them into positive interpretations has been immensely enriching; and I am constantly trying to be a better person by improving my strengths and virtues. Everyone should read the book Authentic Happiness. Really. It's not about 'success' as such, but about 'authenticity' and building a lastingly better life. Its arguments are supported by one of my favourite things, empirical research. Mmmmmmmm empirical research....
I do believe that, to an extent, you get what you look for – compare your homecoming from work when you are tired and spoiling for a fight with your arrival when you are feeling happy and looking forward to time with your loved ones. Once you take responsibility for your own self, changing your own thoughts and behaviour is a skill that can be learned. Most bloggers I read are trying to do this, which is why I like and admire them so much!
So back to "The S3cret"- and the point....being inclined to have a bob each way, I am going to put up a photo of myself looking lean and athletic. I am practicing reframing negative food-related thoughts, which will be especially important to combat my tendency to comfort eat at uni. I am calm at uni....I eat because I'm hungry..... I will let you know how Project 5.30am goes though, not feeling so confident about that...
I have also set myself a fairly ambitious goal and reward – when (I just wrote 'if', then deleted it, must be consistent LOL) I reach 72kg (a 10% loss) I am going to buy Minerva a triple front ring. Oooooooh swooooooooooon. I'd better find a picture and stick that up too….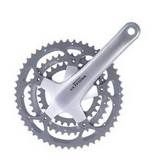 More anon, Pollyannas!

* No Capital Letters Were Harmed by Their, Admittedly, Excessive Use During the Writing of This Post