It's been a quiet week in Lake LBTEPA

Not much going on other than the usual Friday swim, get Noddie up/fed/dressed, make beds, clean kitchen, fold washing, go to the pool with Noddie, lunch and vegie shopping at the market, grocery shopping, drop stuff off at the op shop and physio, force Noddie to have quiet time, walk to the Sharing Park*, watch Play School, make Noddie's dinner, organise the bath - type stuff.

Oh, and we bought Noddie some new shoes.
She chose them herself .



Heredity is a scary thing.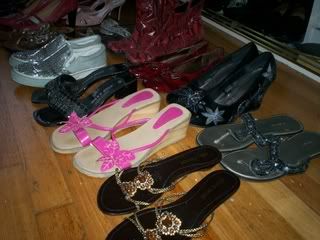 More anon, bon vivants!

*The Sharing Park is at the end of our street. J and I named it when Noddie used to shout at other children children for going on 'her' slide.