Roughly this time yesterday I sat in the car park outside the surgeon's rooms and cried. The cast was off and the surgeon was happy because everything was 'normal" and 'progressing well'. This? Normal? This scaly, wrinkled, scarred, swollen, painful thing, that wouldn't bend? Another week on 'crunches' - progressing well? Another week feeling like crap because I have to ask people at work to carry my tea. Another week without my car (stupid sports clutch). And another week that I can't push Noddie on the swing at the park, when I promised her I'd take her today.
I drove around aimlessly for a little while, bought some petrol, thought about what I'd have for lunch (at 10am). Putting things off. Finally I pulled into the swimming pool car park. I didn't want to go in. I'd been keeping myself bouyant through the whole time in the cast by imagining this day as triumphant, strong, back-to-normal. Now my folly had risen up and slapped me and I was crushed.
But I went inside, on my crutches.
And I took my horrid scar and revolting scaly leg to the edge.
And I jumped in.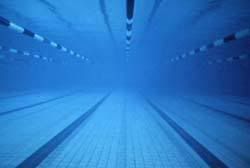 the most beautiful feeling in the world

Mmmmmmmmmmmhhhhhhhhhaaaaaaaaaaaaahhhhhhhhhhhhhhhhh.
It was magic. Magic, I tell you. Mmmmmmmm......

Then I swam 5 x 100m - that's all - and nearly puked. It's going to be a long road back. :(

After the best standing up, no fuss shower ever, I hobbled painfully back to the car and cried again. The Spousal Unit copped it big time when he rang to see how I was, poor treasure - but I did tell him that I knew these feelings of sadness and disappointment and shame were temporary and would pass if I gave myself some time to process them. Not fun, but true.
Later in the day my physio took a look at the mess and described it as 'beautiful' - what is it with these medical people? Swimming is excellent for flexibility so I can do that. Lots of exercises and stretches. I can do that. He wants me on crutches for a week, gradually increasing weight bearing, to make sure I develop a properly balanced gait and not a limp. I can do that. Not all the time, either, just when I'm not at home. I can do that. Back to see him next week to see how I'm going on our 12-weeks-til-running plan.
Guess what I did when I got back to the car? (*hint - more hankies in the wash). And I talked myself down from a large block of turkish delight to a can of diet lemon squash. Woo f#$%ing hoo.

I took Noddie to the park and pushed her on the swing.
Then we all went out to dinner to celebrate and had a lovely time.

This morning my swim was a bit better. The bruising is down and my skin is presentable, thanks to sorbolene and my loofah.
Now, comrades - onward!