It seems my clever strategy of writing "NOT THIS FOOT!" on my good ankle was successful.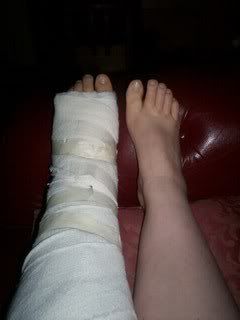 The surgeon reattached the ligament and removed a floating piece of bone (ewwww). No fusion or graft. Such a relief.
The first two days were absolutely f#$%ing excruciating, but everything is much better now.
Still a bit weary and dopey. My saintly Mama is staying with us and has taken Noddie on her Saturday Train Adventure as J is at work. I want to be like her when I grow up.
Plan "No dishes for me, mwahahaha!" still working well.
Thanks 100000000000000000000000000000 times for all your supportive comments and thoughts. I got all blinky when J brought them in for me to read. *wipes eyes again*
More anon, sleepyheads
oh, that's just me :)