Minerva and me, we're back on the road, bay-beeeee! Woooo hoooooo!
My wonderful physio, he of Infinite Powers of Healing, has Spoken. And he has Said that Minerva and I may once again ride out through the land. And the people (well, me) rejoiced!
He also said when you can hop you can run. People with IPoH make obsure pronouncements like that. But don't you worry boys and girls, hop I shall.... Project Skippy is underway as we speak - I'd tell you about it, but the details are so top secret I'd have to kill you... well actually they're so boring you might die, involving as they do tiresome and repetitive exercises on steps. Moving on.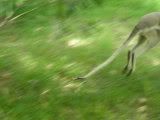 So Minerva came in from the back verandah and was dusted with a baby wipe and had her tyres pumped up. Then I rode her dowwwwwwwnnnnnnnn the big hill we live on to see if I could remember how to use the flicky-flicky gears (I could), then uuuuuuuupppp the big hill we live on to see if it was any easier than last time (it wasn't puff puff pant pant). Then off we went out into the wind and the fresh air and the spits of rain and I felt more alive than I have for weeks. *beams*
Now my glutes are tired, but that's good because it means I'm actually using them now LOL. Three guesses as to how I overused my calves so badly *pouts*. Life is so full of possibilities for biomechanical error, isn't it? My ankle feels a bit sore from twisting my foot to unclip, which is a bit of a worry, but I will think about it later. Since I'm fancying myself as a bit of a bike guru these days (hahahahahahaha) I'm going to move the cleat on my right shoe back about 5mm to see if it fixes the unbalanced feeling when I pedal. Tres fascinating, no?
My next post may be from gaol as the Spousal Unit has been giving me such SERIOUS 'tude* about picking up after himself lately that I may have to have him taken out.

More anon, bipeds**
*Ooooh I am so scary and gangsta LOL
**and a big hello to any quadrupeds who may be reading as well! Everyone is welcome at Chez LBTEPA, we're not picky AT ALL