7 am and it's 30 degrees already. Did I accidentally move to Darwin?
Thank goodness for lists as I am starting to feel a bit overwhelmed.
Food shopping for 17 for Christmas Day supper - check.
Running sheet for Monday's menu - check.
5 loads of washing washed, hung out and dried - check.
Fruit mince for puddings (yes I know I should have made them in September) - check.
First exercise in a week (pilates, ow my abs, I mean ooh my core feels so toned now) - check.
Realistic exercise schedule for next few days - check.
Ignoring the king tide of mess engulfing the house until Sunday morning because there's no point whatsoever doing it before then unless I want to do it again - check.
Note from my tiresome Truthful Twin - this is A LIE. I can't ignore this hideous cesspit of random shite. I will shortly become enraged about it and storm around picking things up, then get upset and eat a mince pie.
Swallowing irritation at J's rellies for announcing a last-minute Sunday afternoon family do and cutting 5 hours aarrgghh off my preparation time - check.
Swallowing disappointment at getting my second-choice thesis supervisor (well-known to be 'hands-off' ie not very helpful/interested) - check.
Deeply thankful for people like Sparkdriver who sacrifice so much to protect homes and property from the dreadful bushfires that are devastating our state - check.

If Dymocks online and Australia Post don't land the Spousal Unit's present on the doorstep today I'll have to go shopping again and my brain will explode.
Now Noddie and I are off swimming, because it's Friday and that's what we do on Fridays, and then to my work Christmas barbie because I cannot organise another thing, not even my in-laws to mind her.
We will be accompanied by two of Noddie's particular friends, Sharon and Teddy, unless I have a CBB* attack and we stay home.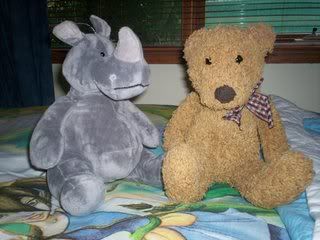 *Can't Be Bothered