Now you are no doubt simply agog to know how much of the good stuff He Who Heals All is letting me do - rest assured, my friends, even if my head explodes with frustration there will not be one step or pedal stroke more than prescribed by The Plan. The Plan is this: 30sec run + 1min walk for 30 min, and 30 min on my actual, real, going outside bike! Woot! Twice this week, three times next week (plus the usual swims) - but maaaate, I'm Paula Radcliffe and Kate Bates rolled into one, baby! Perhaps I'll just be Emma Snowsill LOL.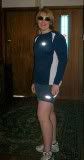 +

=

I don't know why these stupid photos won't go side by side on the page - they do in the preview GRRRRRRRRRR
Other news:
*SMUGNESS ALERT* I did 80% of my Christmas shopping in a 50 minute rampage around DFO last night. I don't like shopping, so when I shop, I shop. My trusty red mp3 finally died (awwwwwwwwwww): let me introduce my new companion! Tres groovy, non? I never said I wasn't fickle. Now if only I could lose more than 400g a week and my thesis would write itself........

More anon, pod people!