A bloke I know had a bit of a scare recently - a person of his acquaintance went missing at about the same time as a woman of similar description was killed in a cycling accident. The woman had no ID. Fortunately it wasn't Comm's friend, but it did make me think of all the unidentified joggers found collapsed by the side of the road - quite often in Sydney for some reason, terribly dangerous place I gather. I wondered how the Spousal Unit would find out if I had a bad stack on my bike or was in an accident while running. So I bought this.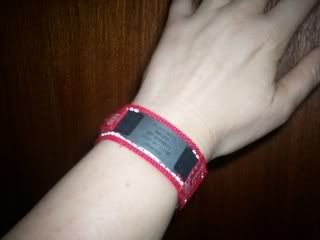 It's red so it goes faster
It's loaded with velcro and reflective stuff, has my name and J's contact details, and has been clinically proven to be as comfy as billy-o to perspire in. For about A$30 I can run and cycle hither and yon, secure in the knowledge that in the event of a misfortune befalling me my loved ones will rally to my side quicksticks. You should get one too. People care what happens to you! The link is
here
.
More anon, voyagers