2:31:07 for the Shepparton half marathon! I'm thrilled.
Noddie and Teddy are thrilled with their ribbons too. I wish I'd seen them bringing the crowd to its feet with their sprint across the line at the end of their 3km (the Spousal Unit was there too, go J go! :)
More details tomorrow, possibly including every single km split, as I have finally mastered the lap function on the watch J gave me 12 months ago LOL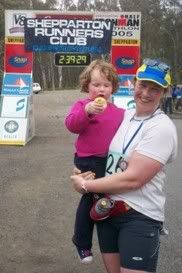 Monday: OH. MY. GOD. I just got my mark for statistics - 84%!! I am STAGGERED.