I really love swimming. I enjoy doing it and I'm good at it. I think it's a beautiful sport to watch.
I spent a great deal of my adolescence churning up and down a pool, so I have some understanding of the amount of effort and concentration and discipline and sacrifice it takes to excel at swimming. I cannot imagine the pressure this young man has been under, carrying the hopes and expectations of a sport-mad nation and his own exceptionally high personal standards.
Thanks for everything, Thorpie. You were beautiful to watch, a pleasure to listen to and an inspiration to many. Now off you go and enjoy yourself.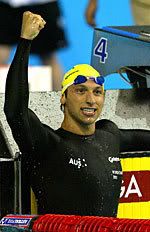 I am off to Mum's on Friday to be her election campaign PA and hand out how-to-vote cards for her amazing 19 year old candidate. I have to do a bunch of stuff before then to ensure that I don't return to complete chaos so I not sure when I'll be posting next. If Noddie screams herself to vomiting point at bedtime again tonight I may need to vent!!! We have no idea where this behaviour has come from.... I am getting very tired of washing her sheets (sigh....)
HOTW update (as you have been longing to hear how they were going). HOTW#1 (no diet coke) - none for several weeks, yay. HOTW#3 (1.5l water every day) - 7/7 so far. HOTW #2 (no food 'extras'), er, needs more work. Did you notice my fancy-pants new tables? Putting AFDs (Alcohol Free Days) out there is part of Project 'don't kid yourself'. It's all good, no?
More anon, voters!