Last night I walked the mile to Noddie's carer's house so we could have an "adventure walk" (any impromptu walk, really LOL) back to the Sharing Park for our traditional Thursday swing. Just like that. Without even thinking about it. Hard to believe it's just four weeks since I was crying about my ugly, weak ankle. It's still ugly - but much less swollen now, and I have faith that the vitamin E oil will help with the scar - but weak? Not any more. Combined expertise (surgeon and physio), diligence (mine) and good luck (thanks Mum and Dad for the fast-healing genes!) have changed everything. I just heard it start to rain so I belted out down the back yard, tore the washing off the line and sprinted back in - all without even thinking about it *beams*

The rest of this post is even more all about me than usual, so feel free to go and do something keen and inspiring and write about it in your blog (which I will then read and benefit from. Mwahahaha).

It's the end of August.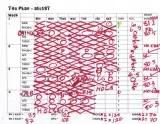 I'm happy with some of the numbers.
Swimming - 22/23 = 95%. Good
Exercises - 19/26 = 74%. Could be better
6 glasses of water/day - 25/26 = 96%. Good
Thesis - 17/16 = 106%. Pleasing
AFD's 5/16 = 31%. Needs work. I did grapple much more with this issue rather than pretending it wasn't there. The total volume was way down even if the frequency wasn't. I'm not giving up.
The other numbers - weight and measurements - despite daily exercise, were not pleasing. 900g lost in a month. 9cm off my body in 4 weeks. Hmmph *scowls* It's no mystery whatsoever how this has happened. It's because I have been scoffing 'extras' - morning tea, Noddie's crusts, second helpings, takeaway, dessert....WTF? I never eat dessert - like a deranged combine-harvester.
Now the plan is this.
Next month I will continue to track the same 5 things, including daily exercise bike in the "swim" row.
I have written messages to myself on our fridge, next to the pantry and over the stove. TBUS! FTF!
Think
Before
You
Scoff!
and
Feel The Feelings!
LBTEPA will become the poster-girl for "Mindful-Eating-R-Us!". I will!

Apart from that, it would be really cool if my final ethics approval would arrive and I could start recruiting subjects and maybe even get some data to analyse.
So how was your August?

More anon, my friends.