I know, I know, I said no ebay for 2 months, and it's only been 4 weeks ( a huge personal best, BTW), and no shoes until I've had 25 AFDs, and it's only been 3, but who could resist these darlings?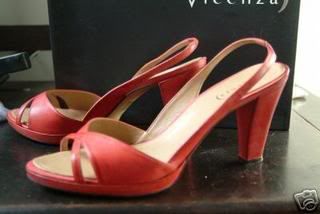 (or these, but I actually
need
them and they're much cheaper direct from the US so it doesn't count).
No jokes about shoes being my achilles heel, please - far too corny
(
CORNY, geddit? hahahaha, gosh I'm SO funny...)
I'm back on the wagon now, I promise!
I'm meeting my new thesis supervisor tomorrow.
I have decided to believe that the surgeon will do all the scans and then decide I don't need surgery after all,
or
the scans will reveal I need a ligament repair rather than a full reconstruction,
or
it will all go superbly well and I will heal marvellously quickly.
more anon, Imeldas!