Hahahahaha, lame, geddit? Oh I am just so funny......
Just remember next time you say, I could do that standing on one leg, you're probably right.
Unless it's emptying a large vase of flowers or getting washing off the line.
Today I am taking Noddie on our Saturday Train Adventure to the city. By myself. On one leg.
Huge thanks to the friend who blithely changed her pre-surgery promise of spending today helping me with my tearaway 3 year old (J is working) to coming over at 5.30pm with her boyfriend to cook us dinner. NOT!
But Noddie and I Will. Have. A. Good. Day.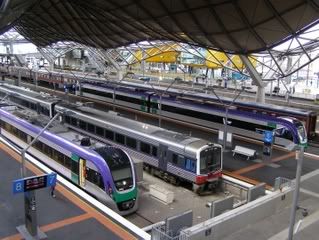 The dining area at
Southern Cross Station
overlooks the tracks! What's
not
to enjoy?
*LATE EDIT* Noddie and I had a super outing. My
Bulldogs
and J's
Magpies
got up in thrillers. Friend and BF came over, cooked a delicious meal and we all had a lovely evening talking and laughing. Sickening, aren't we?