When I got home on Sunday morning, Noddie raced to the front verandah and called out "Welcome home from your triathlon mummy –hip hip hooray!" and gave me a big clap! It was gorgeous :)

I have designated this a light training week. It's extremely hot and humid (for here), J has the lurgi that laid me low a couple of weeks ago and Noddie is the Fussmeister in the heat. Someone has to captain the ship. And if I want to ignore The Schedule and just swim I will, cause it is all about me LOL.

I am trying very hard to neither join nor be enraged by the grizzlefest going on here about the heat/power blackouts (caused by the bushfires)/water restrictions. For goodness' sake people, what about a bit of backbone? Some cheerful stoicism?

My nephew wants to do another triathlon! I was so pleased – apparently N hadn't realised how big, exciting and fun these events are. I will have him hooked on the buzz yet, mwahahaha! Unfortunately we will be away for the next one so I can't join him, but I think Sib 1 might be up for another one.

On that note, our tickets to Vanuatu have been posted and will be here this week!!!! I am so excited I can hardly stand it (but that's a whole other post). I'm starting to get a bit excited about my (unmentionable) birthday (in Feb) as well; so far 8 of us are doing the surfing lesson and twenty-five or so coming to dinner. Bring on the bubbly, baby! I have even bought a new dress.

My bike fitting was BRILLIANT! Go and get one for your bike AT ONCE! No, really! I was on the trainer in the shop for about half an hour while the charming Matt adjusted the headstem, the handlebars, the pedals, the gears, the seat and my pedalling action – such small changes and such a big difference. We had already spent half an hour choosing pedals ** and shoes suitable for both me and the bike (and he didn't ask what a nuffy like me was doing with a nice bike like Minerva, either). Did you know you can buy 'hybrid' pedals? They have clips on one side and are flat on the other, so you can a) get your balance before you have to clip in, and b) ride your bike to the milk bar without having to put on your bike shoes. I *heart* my pedals!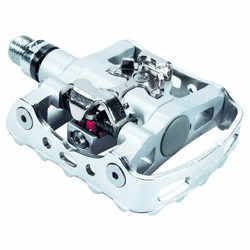 **I'm not sure if these are the exact pedals but they are v. similar.